English
Message from the Professor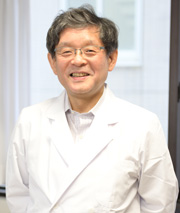 Thank you for visiting the website of Department of Pediatrics, Hokkaido University.
 Department of Pediatrics, Hokkaido University was established in 1924. I was inaugurated as the 7th Professor on April 1, 2019, following Prof. Kazuo Nagai, Prof. Yoshifumi Ko, Prof. Naotatsu Yamada, Prof. Shuzo Matsumoto, Prof. Kunihiko Kobayashi, and Prof. Tadashi Ariga.
 Department of Pediatrics at Hokkaido University has dedicated specialized research groups in the following 10 areas: immunology, hematology / oncology, neurology, nephrology, endocrinology / diabetes, cardiology, neonatology, infectious diseases, genetics, and metabolism / gastroenterology. Patients with any kind of pediatric disease can receive appropriate diagnosis and treatment at our department.
 Our department is committed to world-class research and passionate education in each group. We have produced many excellent researchers and clinicians who are actively contributing to child welfare in all over the world. We hope that you will appreciate our enthusiasm for both basic and clinical research in pediatrics. We will follow the saying of Prof. Clark, be ambitious and be gentleman (or lady).
Atsushi Manabe, MD, PhD
Medical staffs
Clinical and research activity
◆ Immunology group
In 1995, we were the first in Japan to successfully treat a baby boy with ADA deficiency with gene therapy. Nowadays, we treat and research inborn errors of immunity, autoinflammatory, autoimmunity, and allergy (especially food allergies). Most recently, we were the first to diagnose and report patients with hereditary folate malabsorption in Japan.

◆ Infectious diseases group
An outpatient clinic for pediatric infectious diseases is held once a week. In addition, we have taken on the duties of nosocomial infection control and consultation on infectious disease treatment. We also conduct clinical and basic research on emerging respiratory infections (human metapneumovirus, human bocavirus, and polyomaviridae) and clinical research on the efficacy of anti-influenza drugs.

◆ Hematology and oncology group
We focus on the diagnosis and treatment of pediatric hematological diseases and solid tumors. To date, a total of more than 300 patients have undergone hematopoietic stem cell transplantation in our group. CD19_CAR-T therapy, and multigene panel testing for pediatric cancer are also available. Starting in 2016, proton beam therapy for pediatric cancer is now covered by insurance. More and more people are coming to see our group for proton beam therapy. We also conduct research to reduce pain and complications in the treatment of pediatric blood disorders and pediatric oncological diseases.

◆ Neurology group
We diagnose and treat epilepsy and all other pediatric neurological disorders. We participate as a key member of the Hokkaido University Hospital Epilepsy Center, where we analyze the pathophysiology of epilepsy and seek appropriate treatment options. In terms of research, we are conducting basic experiments to elucidate the pathophysiology of epilepsy using magnetoencephalography and animals with various neurological diseases, as well as to develop new treatment methods.

◆ Nephrology group
We deal with all pediatric kidney diseases from infants to adolescents (hematuria and proteinuria found in school urine tests, nephrotic syndrome, IgA nephropathy, membranous nephropathy, membranous proliferative glomerulonephritis, purpura nephritis, congenital anomalies of the kidney and urinary tract, hereditary kidney disease, lupus nephritis, renal failure, etc.). We are also engaged in basic medical research to elucidate the mechanism of development of nephrotic syndrome and glomerulonephritis.

◆ Endocrinology and diabetes group
We treat a wide range of pediatric endocrine disorders (growth disorders, adolescent dyspuberty, thyroid disorders, pituitary disorders, calcium and vitamin D related disorders, sexual differentiation disorders, bone system disorders, diabetes, etc.). We are also working on comprehensive genetic analysis of congenital hypothyroidism, elucidation of the pathogenesis of novel congenital hypopituitarism, and genetic analysis of diseases that cause unexplained growth disorders.

◆ Cardiology group
As the core of pediatric cardiovascular care in Hokkaido, we perform about 160 cardiac catheterization and/or treatment cases per year and about 120 pre-operative and post-operative management for cardiac surgeries per year. Furthermore, we are actively involved in the treatment of adult congenital heart disease and provide cardiovascular care that supports patients throughout their lives. We are conducting basic medical research to elucidate the pathophysiological mechanisms and novel treatments for cardiomyopathy and pulmonary hypertension. For some of our basic research, we are collaborating with Faculty of Pharmaceutical Sciences, Hokkaido University. In addition, we are conducting clinical studies on cardiomyopathy, arrhythmias, fetal echocardiography and pulmonary hypertension.

◆ Neonatology group
We provide care for preterm and low birth weight babies and manage approximately 50 surgical cases per year. Patients with congenital heart disease, pediatric surgical disease, neurosurgical disease, and congenital malformation syndrome come to our NICU from all over Hokkaido.
 We are also conducting 1) research on hereditary interstitial lung disease, 2) development of a light environment that promotes sleep and physical development in preterm infants, 3) research on the effects of endocrine disruptors on the fetus, and 4) evaluation of fetal heart failure using amniotic fluid brain natriuretic peptide (BNP).

◆ Genetics group
Twice a month, we offer outpatient services for the diagnosis, genetic testing, and genetic counseling of chromosomal anomalies, regular checkups for children with chromosomal anomalies, diagnosis, treatment, and genetic counseling of congenital malformation syndrome and other congenital anomalies.
 We are collaborating with other institutions to study genetic abnormalities and treatments for congenital malformation syndromes (especially Beckwith-Wiedemann syndrome, Prader-Willi syndrome, Silver-Russell syndrome, Williams syndrome, Kabuki syndrome, Down syndrome, and Noonan syndrome).

◆ Metabolism and gastroenterology group
We treat from the very rare inborn metabolic abnormalities to the very common habitual constipation. We also conduct research on the diagnosis and treatment of congenital metabolic abnormalities and the diagnosis and treatment of gastrointestinal liver disease.